Rogan painting is an expensive art practised in Gujarat, India. Although the artwork had nearly died in the 20th century but not entirely. It is currently practised in Nirona, kutch by only two families who continue to practice it for trade, with an intention of sharpening and flourishing the artform. The place is known for its unique culture and craft.
It is a form of cloth painting which is made using a thick paste made from the castor oil which id boiled and stirred for more than 12 hours till it catches fire. But the artisan has to carefully monitor to make sure it is not burnt. The substance is then mixed in cold water resulting in a thick paste called Rogan gel. The gel is later blended with readymade pigments which results in thick Rogan colour paste. Some of the frequent colours used are red, blue and yellow.
The floral and geometrical designs are then made with the colour paste on the cloth with a stick or a stylus. These paintings are mostly famous for happiness and tree of life concepts.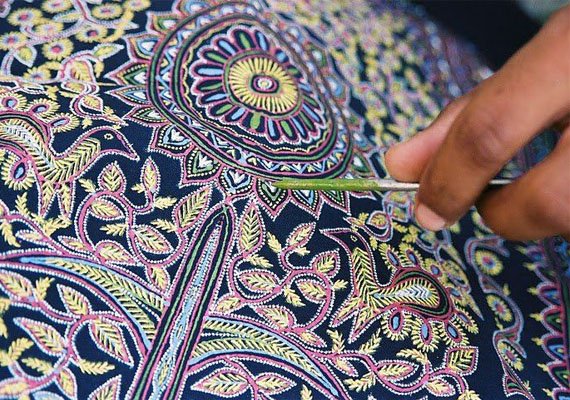 The process of mixing the paste is done till threads are formed. The artisan then use the thread to create patterns and designs on the cloth by free hands.
This art can be practised on various sizes, depending on the product. In case of a shawl, the pattern will be of 2 metres while there will be 6-9 metres of design on a saree but only on the border. A mere design of 12-17 inches takes a minimum of 3 days.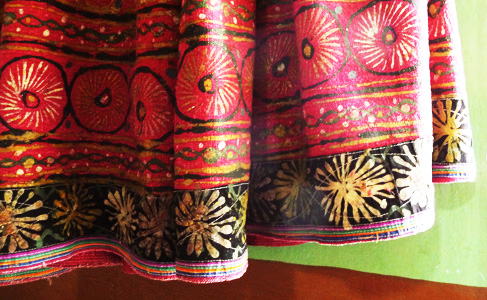 This 400 years old art was earlier practised and traded within the village only. Traditional clothes of the women carried Rogan designs in skirts and ghagras. It was later extended to table cloths, dupattas, cushion covers. It also includes intricate design patterns on shawls and wall hangings.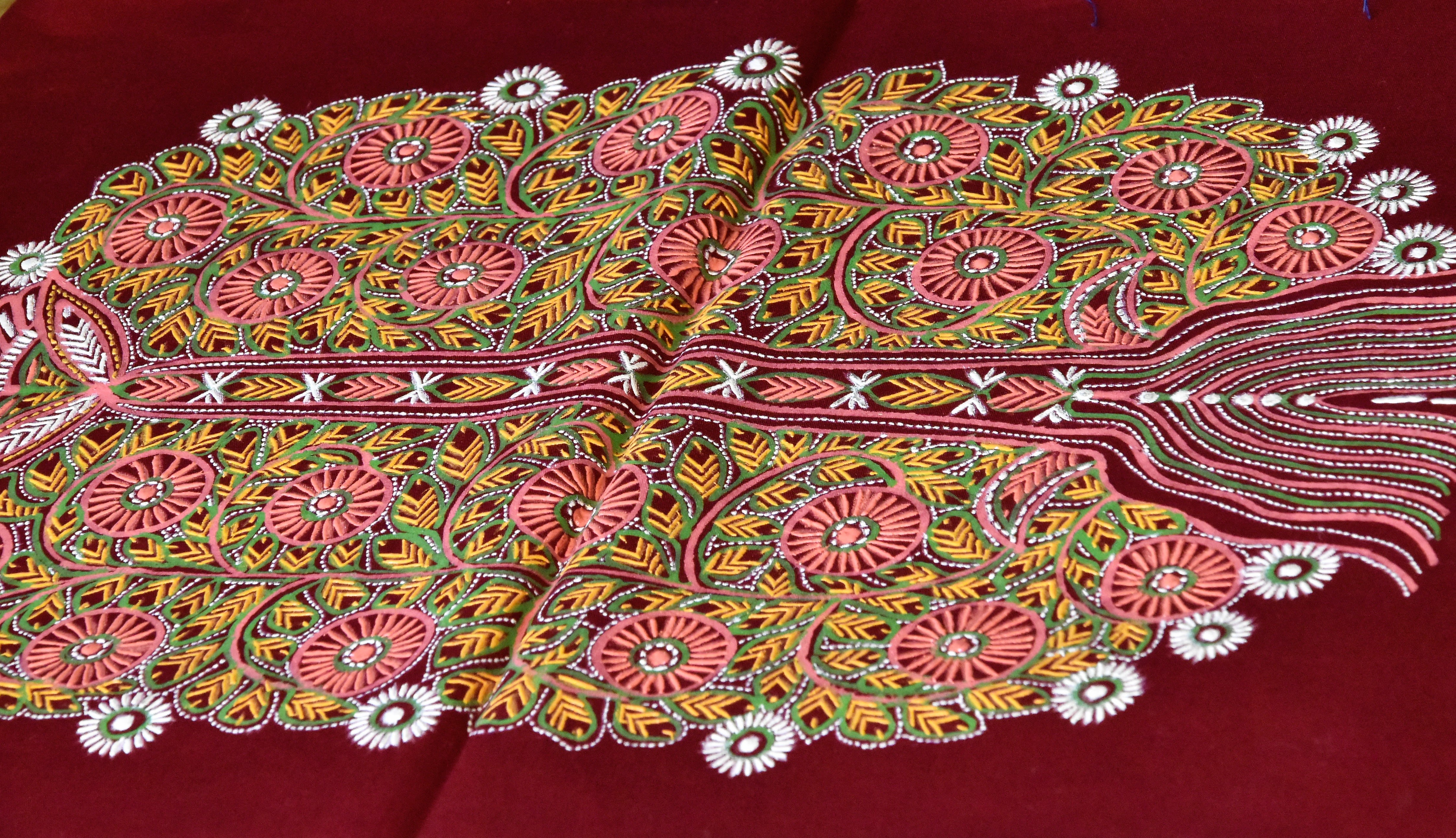 One of the few well-known Rogan artists, Katri Rizwan Sidhvik in Nirona, Kutch made a 7-metre peacock design that was purchased for Rs 2 lakhs, consequently, he designs corners of handkerchiefs which are sold for Rs 50.
Rogan, the Persian word was first used in the Mughal Empire. This art had begun by the community of the Muslim Khatris in Kutch. These paintings and cloths were initially purchased by lower-class women for occasions, it was a seasonal and not a recurring artform. This implies that it was seasonal employment as the artisans for the rest of the year would shift to other means of livelihood such as farming or labouring. 
Additionally, industrialisation gave rise to many cheap and efficient machines in the 20th century. There are only six people in India who practise the art form as it had declined due to machines and textiles. This was cost-effective as the freehand painting was expensive and mostly bought by foreign people of Japan, Australia and Spain.
This art has been passing down from the last eight generations in these families but they don't have enough investment and customers to spread the artwork. In order to help these artisans, in 2012, Prime Minister Narendra Modi had purchased a piece of this artwork to gift a rare art of India to Britain high commission James Bevan. The government has also set up NGOs to facilitate markets for them. They are also encouraged to draw new designs and used different colours to have a different impact on people. 
Given the fact that Rogan paintings were quite expensive and fewer artisans developing the products, it slowly and steadily declined. Now, there are only two families of Khatris in Gujarat left who practice the art form.