It all started with Yogi Adityanath's statement, terming Indian Forces as 'Modi Ji Ki Sena'. A letter was circulated which had 156 servicemen signatories, asking the President to stop the using Armed forces for political benefits. Later found that many of the signatories didn't give their respective consent. Two ex-chiefs were among many servicemen who denied writing the letter. They termed it as the 'manifestation of the fake news'.
General SF Rodrigues who is listed as the first signatory to the letter called it a "classic manifestation of fake news" and denied any role in the letter. He said that he had been apolitical throughout his career and still firmly believes in that.
"All my life, we have been apolitical. After 42 years as an officer, it is a little late to change," he said, according to news agency ANI. General Rodrigues, who was the army chief between 1990 and 1993, said he had always put the country first and wasn't aware who had circulated the letter.
Former air chief NC Suri said a letter had been circulating on email and WhatsApp. "To put an end to it, I wrote that armed forces are apolitical and support the politically-elected government," he said, according to news agency ANI.
"And no, my consent has not been taken for any such letter. I don't agree with whatever has been written in that letter. We have been misquoted," he added. Former Army Vice Chief Lt General ML Naidu said his consent hadn't been taken for any such letter.
"No, my consent has not been taken for any such letter and neither have I written any such letter," said former Army Vice Chief Lt General ML Naidu told ANI.
Major General Harsha Kakkar, who is 31st on the list of armed forces veterans who purportedly wrote the letter to President, however, said, "Yes, I had given my consent for being a signatory to the letter. I had given my consent only after knowing the contents of it."
Earlier today, the Congress party shared a copy of the letter on its Twitter account and said, "Modi may try to use soldiers for votes, but it's clear that soldiers stand with India and not the BJP. 156 Veterans of the Indian Armed Forces including 8 former Chiefs of Staff write to the President of India urging him to act against Modi for trying to use soldiers for votes."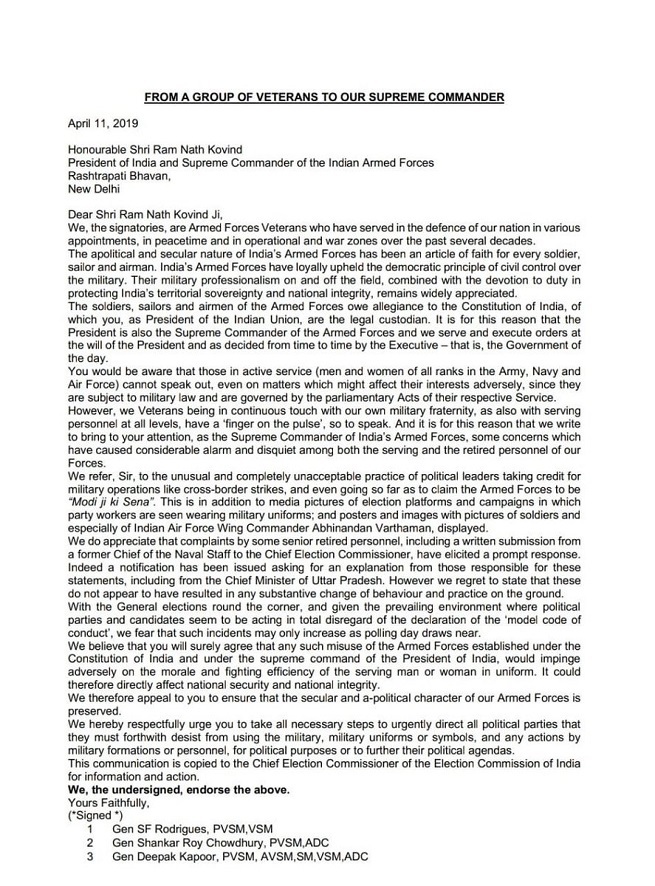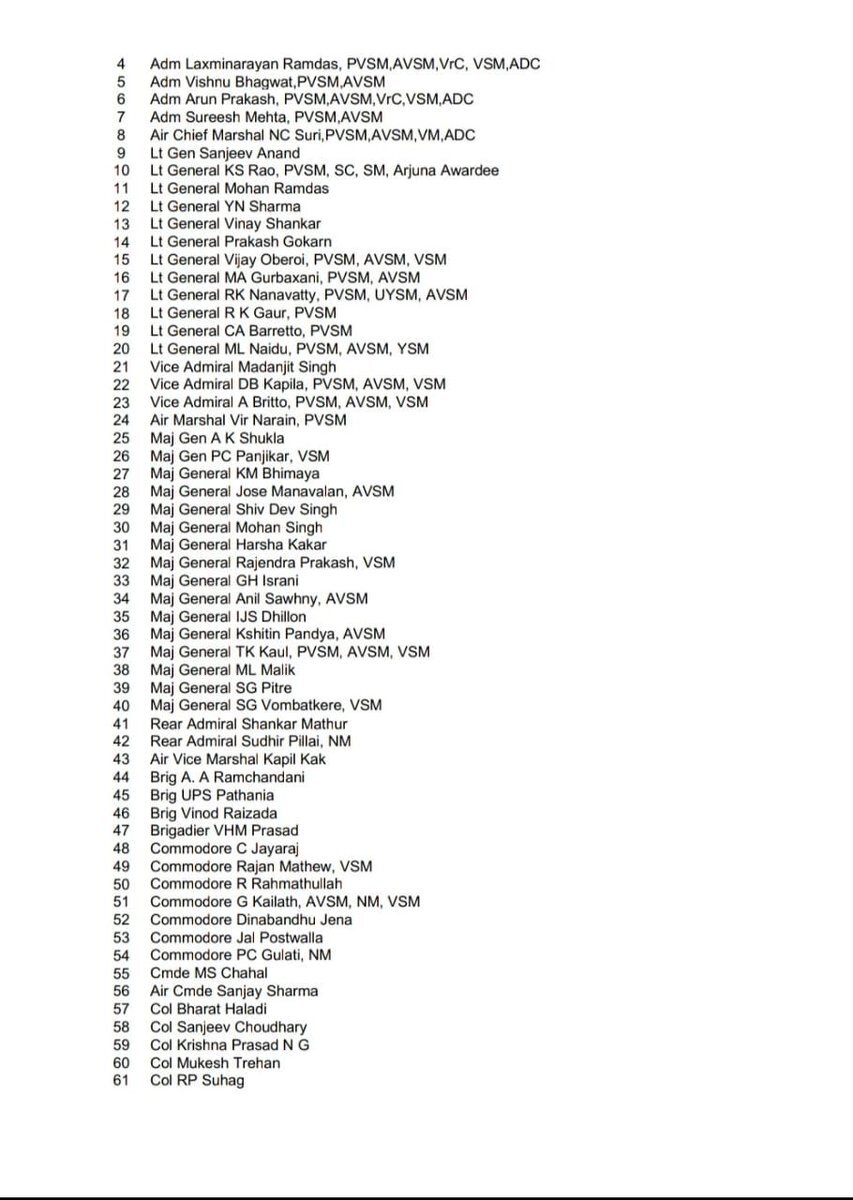 "The apolitical and secular nature of India's Armed Forces has been an article of faith for every soldier, sailor, and airman," the purported letter addressed to President Ram Nath Kovind says.
Referring to the denials from the two former services chiefs, Defence Minister Nirmala Sitharaman said it is worrying that fake letters are being circulated by vested groups. "It is condemnable," she said.
An official in President Kovind's office also denied that they had received the letter, according to ANI.
The Election Commission had earlier advised political parties not to use photographs of Wing Commander Abhinandan Varthaman, who shot down a Pakistan Air Force F-16 fighter during an aerial dogfight on February 27 or use other military action in their election campaign. Union Minister and former Army Chief General VK Singh too had criticized those using the reference to Indian armed forces as 'Modi Ji Ki Sena' as 'traitors'. Though just after few days, his party's stalwart and UP CM Yogi Adityanath had referred to the armed forces as 'Modi Ji Ki Sena'.