Yet to be set-up Jio Institute got the tag of Institute of Eminence and world-class institutes like IIT Madras didn't even make the cut. HRD Ministry's list of IoEs raised a lot of eyebrows around the globe. Through an RTI, it was revealed that Finance Ministry questioned the intent of HRD Ministry for giving IoE status to greenfield Institutes. After the failure of PMRF and IIT Council rejecting Ministry's proposal to scrap JEE Advance,  The revelation is another set-back for the government's plan for improving Higher Education
Finance Ministry interrogated HRD Ministry over selection of 'greenfield' institutes instead of already established 'brownfield' institutes much before the list was published. In a report published in Indian Express,  
Reacting to the greenfield category mentioned in the Expenditure Finance Committee (EFC) note moved by the HRD Ministry early last year, the Department of Expenditure (DoE) wrote back on February 23, 2017: "…for the private institutions which are yet to be established, granting of the status of Institutions of Eminence based on future plans is beyond rationale and is not supported. The laid down criteria in this regard is highly subjective."

The DoE's five-page note is clear: "This methodology will give an edge to an institution which is not even established yet by improving its brand value and positioning it above the already established government and private institutions. This will be demotivational and therefore, detrimental to higher education ecosystem. Grading an institution as 'Institutions of Eminence' only based on intentions and a plan defies all logic. Hence the same should be revised."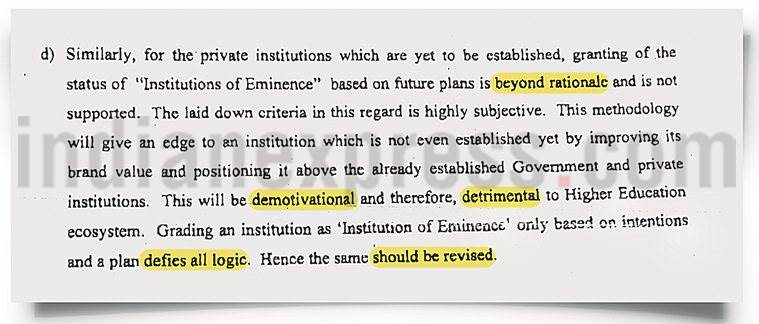 RTI documents also revealed that the HRD Ministry is free to choose another six non-existent private institutes as IoEs. "It is expected that of the 20 institutions, around one third (seven) may be greenfield and the balance 13 shall be brownfield with average student strength of 9,000," states HRD Ministry's EFC note on IoEs.  
The first list of IoEs contained 3 public and 3 private institutes. Reliance Foundation's proposed Jio Institute was the only Institute chosen under greenfield category. IIT-Bombay, IIT-Delhi, IISc-Bangalore, Birla Institute of Science and Technology and Manipal Academy of Higher Education were the others selected for the eminence status.
It is not like only Jio Institute applied for the eminence tag. Apart from it, there were 10 other applicants under the greenfield category. They were:  Vedanta's proposed university in Odisha, Indian School of Business (ISB) in Hyderabad, Satya Bharti Foundation, Indian Institute of Human Settlement in Bengaluru, Indian Institute of Public Health in Gandhinagar, Maharashtra Institute of Technology in Pune, KREA University in Chennai, DICE Knowledge Foundation, Acharya Institutes in Bengaluru and Indus Tech University in Delhi. 
Now the reluctance of HRD Ministry to listen to Finance Ministry raised some more questions over its functioning. Why do the government keep such large number of slots for greenfield institutes? Don't they trust the already established private institutes which stood the test of time? Don't they trust the institutes which were earlier approved by UGC and/or AICTE? Doesn't this verify the allegations on the government to be Adani-Ambani beneficiary organization?