In the recent rape in Hathras, the upper caste men particularly the Thakurs were seen defending the four accused attackers. They were caught threatening the victim's family on camera. The chief of Bhim Army Chandrashekhar Azad visited the victim's family and also accused them for giving a false statement against the suspected perpetrators.
The Uttar Pradesh police have registered an FIR against Chandrashekhar Azad and 400 other people for violating section 144 that was imposed in the area. However, around 500 other men were not charged under the same charges even when they were clearly seen threatening the family in the video.
Some upper-caste men had conducted meetings as Rashtriya Savam Parishad for accusing and blaming the family for the false statement. They are in support of the CBI probe recommended by the Uttar Pradesh's government. They also rallied in the support of the accused which was later joined by several right-wing groups namely Karni Sena and the RSS.
While the family of the victim is opposing the subjected CBI probe, the upper caste groups are rooting for it to prove the innocence of the 'circumstantial' attackers. As the family has also refused to give the narco analysis test, the crowd is enraged.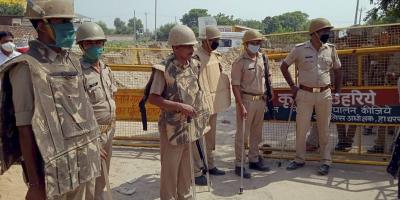 Since one of the attackers has the same name as the victim's brother, it is rumoured that it was the brother who assaulted the 19-year-old and not the accused. The unfortunate event also has taken the caste twist after the police denied the rape attempt, as the victim was a Dalit and the attackers are Thakurs.
The family of the victim has frequently said that they want to leave the village as they are afraid about their safety. The state government has provided security to the family as they are receiving continuous threats from the people. The government has stationed six women constables and two women sub-inspectors out their house. 15 other police officials, three-station officers and a DSP are deployed to avoid such incidents.