Prime Minister Narendra Modi on Saturday inaugurated the Kevadia-Sabarmati water aerodromes and the seaplane service connecting two key projects in Gujarat that is Statue of Unity near Kevadiya in Gujarat's Narmada district and Sabarmati Riverfront in Ahmedabad.
The event is marked as 145th birth anniversary of Sardar Vallabh Bhai Patel, the Deputy Prime Minister of India, observed as Rashtriya Ekta Diwas. PM Modi came for two-day visit to Gujarat to mark this day. Later, he eyewitnessed a paramilitary parade at the Statue of Unity and spoke in length about the necessity to guard the country's integrity and sovereignty.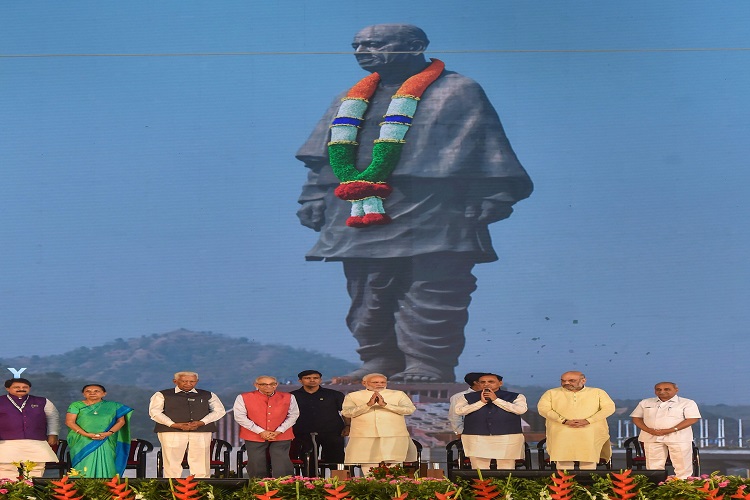 He inaugurated the seaplane service by boarding the twin-engine plane from pond-3 close to Sardar Sarovar Dam near here. This 19-seater plane covers the 200km distance between the Sabarmati River Front in Ahmedabad and Kevadia, by reducing down the travel time from the regular four hours by road to 45 minutes by flight and this service has began operating officially from today. To avoid constraints in booking online tickets, an alternative option is provided to purchase tickets from the ticket window at the waterdrome at Ahmedabad as well as Kevadia. Online bookings for the same began late on Friday night.
It is expected this initiative will provide a big boost to the state's tourism as well as Regional Connectivity Scheme (RCS) – UDAN.
A slash in the seaplane fare was recently announced and now, travellers will be able to book the ticket for as low as Rs 1,500 per person. "The fare has been decided under RCS-UDAN rates and a certain quota of seats on each flight will be allotted at the lower price bracket. For the remaining, fares will be upto Rs 4,800 per person," said the source
The SpiceJet aircraft that he flew in today on the seaplane's inaugural flight carried the logo of Make In India scheme. The tickets allegedly cost a minimum of Rs1,400, with two incoming and two outgoing flights working every day.
Undoubtedly, It gives a striking view of Sardar Patel's Statue of Unity at Kevadia.
On the same day, the seaplane's flagging-off flight was witnessed by Union Civil Aviation Minister Hardeep Singh Puri.
Earlier on Friday, PM Narendra Modi launched the Ekta Mall, a peculiar store erected near the Statue of Unity to gain tourists attraction towards handloom and handicraft products belonging to various states under one roof. He also inaugurated the 17-acre Arogya Van, a botanical garden with a variety of herbs and medicinal plants.